Only for those who are new to CHWC or have not registered since 2020.
Creating an account before registration day will help speed up your registration!
Be sure to save your login information as this will be your account for all future years.
NOTE: You must be logged into

your account

in order to register.
The details below (regarding the virtual waiting room) are only for those registering on opening day (9/8/21).
For those registering after opening day, just login to your account and visit the

registration page.
Virtual Waiting Room
In the interest of fairness and to ensure a smooth registration process, we have implemented a "virtual waiting room." A virtual waiting room is a cloud-based service made to control website traffic without the risk of slowdowns or crashes. It is an environment where users are queued and then given access in a controlled manner. The waiting room will keep users informed while on the queue page with wait times and the number of people ahead in the virtual line.
Anyone that visits the registration page before 12pm EST will be put into a "pre-queue" and allotted a randomized number in the virtual line ("queue") when registration opens.
Anyone that visits the

registration page

after 12pm EST will be added to the virtual line ("queue") on a first come first serve basis.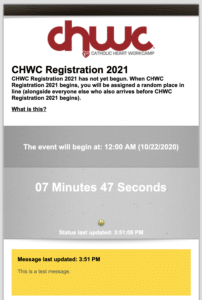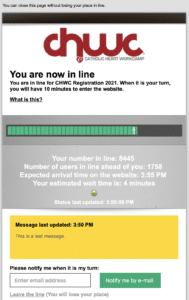 What happens when it is my turn?
When it's your turn you will automatically be redirected to the registration page where you will be able to select your camp and complete your registration.
Reminder: You must be logged into your account in order to complete your registration.
All money paid by your group will now be reflected in your account as a credit. The credit will last forever and if you only use a portion of it, the balance will remain available for future use.

In order to apply your credit, visit your account and then select the "Credits" tab. Once there, you will see a code for your credit and the total amount of your credit. Simply copy the code and paste it in the credit code box when you register.